Products tagged with 'vêtement'
BKW-MS22002
SIZE: 5. This cute set includes a skirt (elastic waistband) and a sleeveless vest with snap buttons. The original and reversible design allows you to create 4 sets in one. Made of beautiful 100% cotton print fabric in tones of pink and teal. Machine washable and dryable.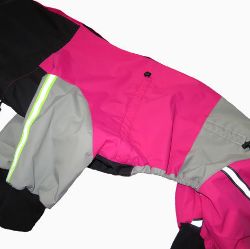 CPETO-MS99999
Pet overall made to fit. For winter or rain according to client demand. High quality Soft Shell Nylon, waterproof, breathable. Adjustable on the chest and hips. Hood/Collar adjustable at the neck and head (offered as an option) or collar adjustable at the neck. Various sizes. Contact us to order yours!
BKW-MS22001
SIZE: 3. Beautiful dress made of print cotton, with open back and button at the neck. Coordinated reversible sun hat.